Fabric, Haberdashery & Craft Supplies
190 Queen St, St Marys (Sydney) Telephone: 02-96734181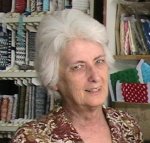 Judy Steenbeeke & Staff
Telephone, Email and Mail orders Welcome
We will mail out swatches to check texture and colour at no charge.
Postage and Packaging: $6 per order within Australia
All prices in Australian Dollars (AUD) include GST
Sale discounts apply only to instore purchases
Direct Deposit, Mastercard, Visa and American Express accepted
Justice of the Peace (Free)
Mon,Thu,Fri: 9.30-4pm
Sat: 9.30am-1pm
Getting to the Shop
Short Walk from St Marys Train Station
On Street Parking in front of shop, large parking lot off street behind shop
Groups
We welcome Tour Groups, please make an appointment.
Contact Us
190 Queen St
St Marys (Sydney)
NSW 2760 Australia
Telephone
Telephone: 02-96734181
Mobile: 0413-743978
Trading Hours
Mon, Thu, Fri: 9.30am-4.30pm
Tue, Wed: 9.30am-3pm
Sat: 9.30am-1pm
Closed: Easter Saturday and Christmas Day to New Year
Website

Sewing Machines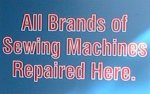 We also carry machine oil, needles and thread.
Facebook
Friend us on Facebook
Regular Sales.
20% off XStitch Embroideries Tapestries Oct-Nov-Dec
20% off Fabrics Dec-Feb
20% off Waddings Feb
20% off Xmas July
Discounts only apply instore
Upto 20% off Knitting May June July
10% discount to Students
Seniors Thursday: 10% discount on everything instore
Cotton Prints (available while stocks last)
Lee Nova Craft carries a selection of cotton and poly-cotton modern and discontinued fabrics, cloth and material. We will mail out swatches to anywhere in Australia. Our St Mary's store is conveniently located on Queen Street, one block from the Great Western Highway. There is free street and car parks nearby. We welcome phone and email enquiries
Lee Nova Craft stocks a wide range of contemporary, traditional, discontinued and unusual haberdashery, including discontinued DMC Cebelia, Threads, Books, Cross Stitch, Long Stitch, Cottons, Wool, accessories, tools, needles, scissors, hooks, braiding, ribbons, sequins, elastic, frames, wadding, buttons, lace and patterns to meet your craft, sewing, knitting, crochet, sewing and other project needs.
Come in and browse, Telephone (02-96734181) and Online enquiries welcome.
Novelty (Width:115cm)
Patchwork (Width:115cm)

Code: Swirls on Blue (LC0143) Price: $6.95

Code: Royal Blue Geometric(LC0147) Price: $8.95

Code: LC0149 (also in beige) Price: $9.90

Code: Burgundy Swirls on Tan Price: $6.95

Code: Ducks on Brown Price: $9.95

Code: LC0181 Price: AUD$13.20
Code: LC0183 Price: AUD$6.95/m

Code: LC0185 Price: AUD$8.85/m

Code: LC0187 Price: $16.50/m

Code: LC0191 Price: AUD$9.95