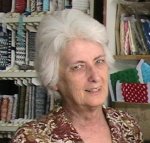 Judy Steenbeeke & Staff
Telephone, Email and Mail orders Welcome
We will mail out swatches to check texture and colour at no charge.
Postage and Packaging: $6 per order within Australia
All prices in Australian Dollars (AUD) include GST
Sale discounts apply only to instore purchases
Direct Deposit, Mastercard, Visa and American Express accepted
Justice of the Peace (Free)
Mon,Thu,Fri: 9.30-4pm
Sat: 9.30am-1pm
Getting to the Shop
Short Walk from St Marys Train Station
On Street Parking in front of shop, large parking lot off street behind shop
Groups
We welcome Tour Groups, please make an appointment.
Contact Us
190 Queen St
St Marys (Sydney)
NSW 2760 Australia
Telephone
Telephone: 02-96734181
Mobile: 0413-743978
Trading Hours
Mon, Thu, Fri: 9.30am-4.30pm
Tue, Wed: 9.30am-3pm
Sat: 9.30am-1pm
Closed: Easter Saturday and Christmas Day to New Year
Website

Sewing Machines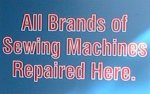 We also carry machine oil, needles and thread.
Facebook
Friend us on Facebook
Regular Sales.
20% off XStitch Embroideries Tapestries Oct-Nov-Dec
20% off Fabrics Dec-Feb
20% off Waddings Feb
20% off Xmas July
Discounts only apply instore
Upto 20% off Knitting May June July
10% discount to Students
Seniors Thursday: 10% discount on everything instore
Add a Crafty touch to the Festive Season or any Celebration

larger image
Code:
Small Cherries
Width:
145cm
Price:
$16.50

larger image
Code:
Stars
Price:
$15.40

larger image
Code:
Stars
Price:
15.40

larger image
Code:
LC0357 Price: $19.55

larger image
Code:
LC0357 Price: $19.55

larger image
Code:
LC0362_2 Price: $17.60

larger image
Code:
Ponsetia-2 Width:140cm Price: $12.40
Lee Nova craft carries a selection of elegant festive fabrics and trimmings to add a special touch to Christmas gatherings.
Christmas Cotton prints
Unusual Sheer, Oppulent, Sparkling, Dazzling Fabrics
Elegant Bells
craft supplies and haberdashery to make special gifts or add a special touch to your home over the Festive Season.
Counted Cross Stich Christmas Tree Ornaments
Yulefest - Christmas in July
Yule or Yule-tide is a winter festival that was initially celebrated by the historical Germanic peoples as a pagan religious festival, though it was later absorbed into, and equated with, the Christian festival of Christmas. The festival was originally celebrated from late December to early January on a date determined by the lunar Germanic calendar. - Wikipedia
In the Southern Hemisphere and Australia, Christmas falls in high summer and is associated with the beach, searing heat and bushfires. It is just too hot to embrace the traditions of a Northern Hemisphere White Christmas.
...three decades ago at Katoomba's glorious Mountains Heritage hotel. Proprietor Gary Crockett was chatting to a group of Irish guests one cold July day. One of them remarked on the irony, for them, of winter weather in July and, as the snow fell outside, asked if it might be possible for the hotel to arrange Christmas-style food and festivities that evening. - Blue Mountains Yulefest 2009 - Eat, Drink and Be Merry
Yuletide Carols
The Holly and the Ivy
Oh Tannenbaum - Oh Christmas Tree
I'm dreaming of a White Christmas
Deck the Halls with boughs of Holly
Twelve Days of Christmas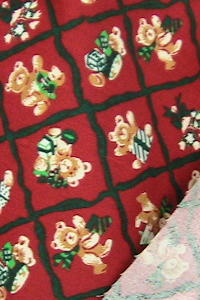 Code:
Teddy Bear (Also available in Green) Width: 150cm Price: $17.25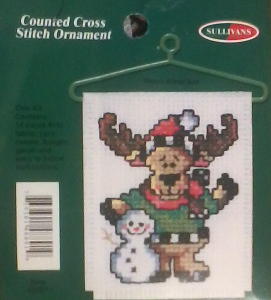 Christmas Counted Cross Stich Tree Ornament Kit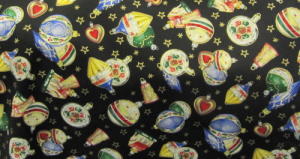 Code:
Christmas Baubles (Pattern Repeat 30cm)
100% cotton Width: 115cm Price: $18.75