Fabric, Haberdashery & Craft Supplies
190 Queen St, St Marys (Sydney) Telephone: 02-96734181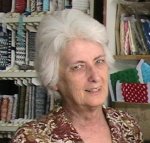 Judy Steenbeeke & Staff
Telephone, Email and Mail orders Welcome
We will mail out swatches to check texture and colour at no charge.
Postage and Packaging: $6 per order within Australia
All prices in Australian Dollars (AUD) include GST
Sale discounts apply only to instore purchases
Direct Deposit, Mastercard, Visa and American Express accepted
Justice of the Peace (Free)
Mon,Thu,Fri: 9.30-4pm
Sat: 9.30am-1pm
Getting to the Shop
Short Walk from St Marys Train Station
On Street Parking in front of shop, large parking lot off street behind shop
Groups
We welcome Tour Groups, please make an appointment.
Contact Us
190 Queen St
St Marys (Sydney)
NSW 2760 Australia
Telephone
Telephone: 02-96734181
Mobile: 0413-743978
Trading Hours
Mon, Thu, Fri: 9.30am-4.30pm
Tue, Wed: 9.30am-3pm
Sat: 9.30am-1pm
Closed: Easter Saturday and Christmas Day to New Year
Website

Sewing Machines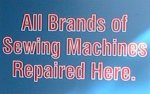 We also carry machine oil, needles and thread.
Facebook
Friend us on Facebook
Regular Sales.
20% off XStitch Embroideries Tapestries Oct-Nov-Dec
20% off Fabrics Dec-Feb
20% off Waddings Feb
20% off Xmas July
Discounts only apply instore
Upto 20% off Knitting May June July
10% discount to Students
Seniors Thursday: 10% discount on everything instore
Welcome to Lee Nova Craft
Old Fashioned Haberdashery Store
Lee Nova Craft has been providing haberdashery to St Marys, Penrith, Greater Sydney, the Blue Mountains and Country New South Wales since 1985.
Lee Nova Craft is an old fashioned store, with 130 Square Metres of sewing, knitting, crochet, needlework, home decor and craft materials. We carry discontinued, vintage and modern fabrics and trimmings.
Judy and her staff can help you find the right wool, knitting needles, crochet hooks and cottons, fringes, tassles, frames and tapestries, trimmings from lace to diamontes for costumes and special days. They will even find the right pink ribbon to tie a bow around a car.
Haberdashery For all your Sewing, Craft & Mending Needs
Iron on Patches (available in 8-9 colours. Each patch is 10x15cms)
Wooden, Glass, Plastic, Venetian & French Beads
Tapestries, Threads, Needles, Frames and happy to help you pick threads for Tapestries without numbers.
Sewing Machine Needles, Service, Bobbin Cases & Oil (small, medium, large)
Wide range of buttons, hooks, eylets, velcro, zippers and other fasteners
Embroidery Threads, Needles & Kits
Crochet Cottons & Hooks
Knitting Laces to decorate coat hangers
Fabric Paint and Glue for Craft Projects
Curtain Hooks, Tape Rings, Christmas Prints and other Home Decor trimmings
Skirt and Trouser Hooks
Diamonte Trimmings
Sequin and Sheer Fabrics
Grommets and Eyelets
Piping Cord
Elastic and Drawstring Cord
Bodkins to pull elastic or drawstrings
Fabrics
Patchwork & Quilting Fabrics and Wadding
School uniform prints
Nautical prints and trimmings
Children's Cotton Prints - Disney, Toy Story and more
Selected Range of Fabrics including Cotton Prints, Denim, Batiste, Cheesecloth, Calico and Muslin
Batik direct from Indonesia
Selection of Spots, Circles, Dogs, Cats, Roosters, Elephants, Tigers, Lions, Florals, Checks, Stripe Prints
Australiana: Cockatoos, Koalas, Lizards and Aboriginal Motifs
Upholstery Tapestry and Braiding
Trimmings for Costumes & Special Occassions
Costume Trimmings including Sequins, metallic thread, maribou and boas
Various widths of Cord, Tassles, Fringes, Braids and Bindings
Uphostery Gimp, Seat Belt, Polyester, Cotton and Jute Webbing
Reflective safety tape for cyclists and work clothing
Satin Roses and Decorative Bells
Netting and Hessian
Wide rang of Fancy Buttons, Fasteners and Zippers
Velcro
Applique

Leenova Craft is listed in Creative Addiction Craft Directory